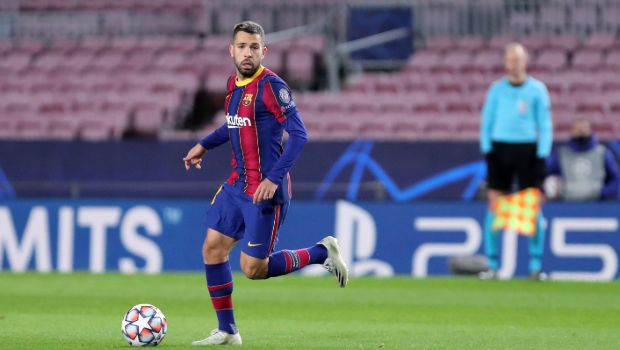 Jordi Alba set to leave FC Barcelona at the end of this season
25 May, 2023
FC Barcelona recently parted ways with one of their clubs all-time greats in Sergio Busquets. While the legendary CDM would've loved to stay another couple of years to play a more sporadic role among a group of youngsters, it wasn't to be the case as Barcelona had to let go of him due to their increasing wage cap concerns. 
In that pursuit, they have now announced the departure of another club legend in Jordi Alba, who has been rumoured to leave the club for a while now. "FC Barcelona and Jordi Alba have reached an agreement to terminate the player's contract with the club one year earlier than it was due to expire at the end of the 2023/24 season," the club said in an announcement. Follow your favourite La Liga team with attractive football betting odds from Nextbet.
"FC Barcelona would like to publicly express its gratitude to Alba for his professionalism, commitment and dedication, and his ever-positive and friendly relationship with all members of the Barça family, and wishes him every fortune in the future. Barça will always be a home for you, Jordi."
Alba has been at Barcelona for over a decade now and is one of the four club captains and a legend. The veteran left-back, however, has lost his place in the starting XI this season, thanks to the explosion of Alejandro Balde. Balde's express pace and modern fullback traits have won over Xavi Hernandez and the player is unsurprisingly a top cader favourite in the starting XI.
Indeed, Alba has been hardly called upon by manager Xavi in recent matches. However, whenever he has played, the defender has shown that he can still offer value to the team, be it with his leadership, experience, or even as an option in an advanced role on the left flank.
Alba had a little over one year left on his contract at Barcelona and the club did not wish to see him fulfill it. The main reason behind the Blaugrana wanting to convince Alba to leave this summer is his wages. As per reports, Alba will be earning a massive €38 million for next season alone, thanks to the contract he signed during the previous administration as well as the deferred wage payments of the past.
Barcelona are in no position to bear those wages and hence will try to convince Alba to leave at the end of the season. This is the case not just with Alba, but plenty of other players who are currently rostered with the club. The coming months will pose quite a challenge in Xavi's man management ability, as he will deal with plenty of incomings and outgoings. Get all the latest updates from the La Liga only on Nextbet Sports.