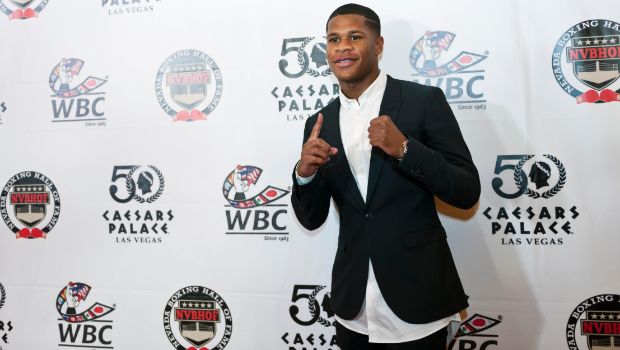 Devin Haney Retains Lightweight Titles in Controversial Decision, Lomachenko Camp Plans Appeal
22 May, 2023
In a highly anticipated bout at the MGM Grand Garden in Las Vegas, Devin Haney successfully defended his undisputed lightweight championship titles. However, the victory did not come without controversy, as former three-division champion Vasiliy Lomachenko's camp intends to appeal the decision.
Lomachenko showcased dominance in the later rounds of the fight on Saturday evening, out-punching Haney by a significant margin of 124-110. Nevertheless, to the disappointment of the 14,436 fans in attendance, all three judges awarded the victory to Haney. Tim Cheatham and David Sutherland scored the fight 115-113, while Dave Moretti had it 116-112. Enhance your Boxing viewing experience with attractive betting odds from Nextbet.
Expressing their dissatisfaction, Lomachenko's manager, Egis Klimas, criticized the judges' decision and vowed to pursue an appeal. Klimas stated, "The biggest robbery in the daylight. Haney's team got Christmas in the summer. We're going to appeal this decision. Those judges do not understand how hard the boxers work. I guarantee we're not going to let that go. We want to show there has to be justice."
With this win, Haney extended his undefeated record to 30-0, while Lomachenko, aged 35, dropped to 17-3.
Both fighters demonstrated aggression throughout the first half of the match. Haney utilized his length and strength, working off his back foot, while Lomachenko consistently landed powerful left-hand shots to the head of the champion. However, as the fight progressed, it was the elder statesman, Lomachenko, who punished the 24-year-old Haney, stunning him with combinations, particularly in a powerful ninth round that exposed the champion's fatigue.
In a relatively close 12th round, all three judges scored in favor of Haney by 10-9, a decision that could have gone either way. If the decision had favored Lomachenko, the fight would have ended in a draw on two judges' scorecards.
"I think I showed that I can still be in boxing. I'm in good shape now," Lomachenko commented. "I won this fight. Twelve rounds end, I was sure I won this fight. I feel I controlled this fight."
Haney, on the other hand, was complimentary of his challenger, acknowledging Lomachenko's status as a future Hall of Famer. "Lomachenko is a future Hall of Famer," Haney said. "It was a blessing. He was my toughest opponent. He was very crafty. He turns it up in the championship rounds. [This fight] put me in the history books forever."
Having fulfilled his three-fight deal with Top Rank and Lou DiBella, Haney will wake up as a free agent on Sunday morning. This grants him numerous options, such as staying at 135 pounds (61kg) for one more fight, including a highly anticipated match against pound-for-pound contender Shakur Stevenson, who was present at the event. Alternatively, Haney could move up to the junior welterweight division, aiming for a second-division title and potentially setting up a clash with the winner of the Josh Taylor vs. Teofimo Lopez Jr. fight scheduled for June 10.
Another intriguing possibility is a bout against Gervonta Davis, who showcased an impressive performance in his victory over Ryan Garcia on April 22.
Haney and his team plan to review the fight and consider their options. Haney mentioned the challenges of making weight at 135 and expressed a need to reflect on the next steps in his career. Follow Nextbet Sports to get all the latest updates from the world of boxing.
"I've been at 135 for a long, long time. This is my 30th fight. I've been here at 135 since I was 16 years old. We're going to go back to the lab and figure out what's next," said Haney.